Growing Up Wild
is a video series giving you a glimpse of the lives of the Wild brothers and their family as they serve as missionaries in Indonesia. I was given two volumes to review with my family. Since my second child is serving as a missionary herself, we thought it would give us a glimpse of what her daily life could be like if she were led to go to Indonesia.
Volume 1
is about their home (hut), their supply trip, and their electricity using sun and water. This DVD was very educational and we enjoyed it a lot.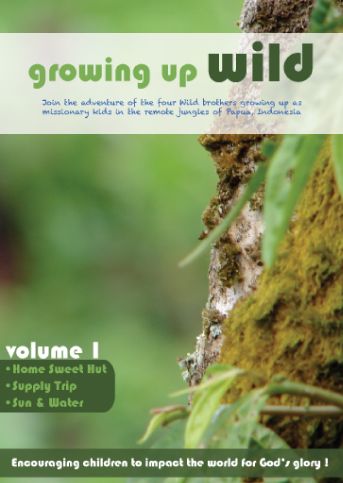 Volume 4
is about the animals around them, the adventures in their culture, and "tribal calling". This DVD was very educational as well, but was one that I would recommend you watch before you show it to your kids due to the piercings that are shown. Although I watched the scenes, it was done with a lot of cringing.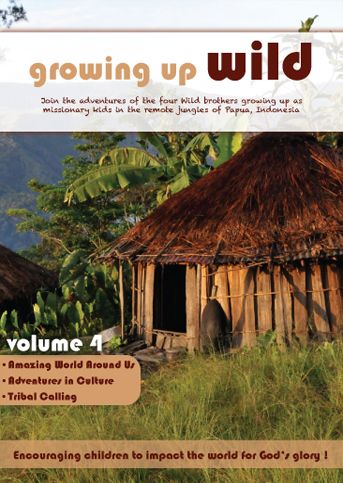 Each volume sells for $18.99 plus tax and shipping. There are 5 volumes and each volume has 3 episodes. Each episode is about 15 minutes. If you buy all of the DVDs at the same time you can save 15%.
Activity guides are included on a separate CD and really help your students connect with the lessons. You can view a sample
here
.
I really like their "Purpose & Vision" from their website so I've included it below:
The "Growing Up Wild" DVD series was developed for the purpose of introducing children to the work going on in foreign mission field. Our hope is that "Growing Up Wild" will educate and challenge your children, and be used by the Lord to play a part in raising up the next generation of missionaries!
"Growing Up Wild" was developed to compliment a Home school or Sunday school curricula. It can be used by elementary age students (ages 5-12) but is entertaining and educational for all ages.
It can also be useful for summer programs, youth groups, extra semester study, private or christian schools, or anyone wanting to learn about the "in's and out's" of modern day foreign missionary work.
We hope and pray that "Growing Up Wild" will bless and challenge your children to see what part they can play in being obedient to God's word in seeing the nations reached with the glorious gospel of Jesus Christ!
Everyone in our family who watched this series enjoyed it and learned something new. We recommend this for anyone who wants to learn more about how missionaries in foreign lands live their lives.
Disclaimer: As a member of the TOS Crew, I received this product, at no cost to me, in exchange for my honest review. All opinions are my own.