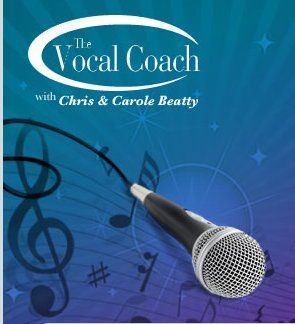 Chris & Carole Beatty,
Vocal Coach
creators and founders, have taught singers of all ages for over 40 years. I received the downloadable version of their
Vocal Coach Singer
. This program retails for $119.99 for CDs or $99.99 for MP3s and is geared for students junior high through adulthood. This is what you'll get for your money:
7 Training CDs:
Getting Started
Complete Breathing
Complete Warm-Up
Complete Tone
Complete Expanding Your Range
Complete Diction
Complete Performance
4 Workout CDs:
Daily Workout High Voice 1 & 2
Daily Workout Medium/Low Voice 1 & 2
Plus these great educational tools:
Guidebook – Full-size Instructional Guidebook to Ensure Success
Printable Lead Sheets – each exercise in our course, plus track lists
Personal Singer's Journal (Getting Started Journal & Workout Journal) to Track Your Progress
Vocal Coach Song Evaluation – Evaluation form to enable you to make more intelligent song selections
I think I sing fairly well. I can tell when I'm off key anyway. :) This program helped me be a better singer by teaching correct posture and breathing to start with. I have pretty bad posture so this is a challenge for me. I also am bad with setting a long period of time to practice, so 10 minutes at a time, focused on what I'm doing, is what works best for me. If you can work for a longer period of time, you'll get through the lessons faster and accomplish more. However, any amount of time as long as it's uninterrupted, is good.
I did find out that I can sing contralto / mezzo soprano. I used to sing soprano or what we considered to be soprano.
I enjoyed working through this program and recommend it. To read other reviews, please click on the banner below.
Disclaimer: As a member of the TOS Crew, I received this product, at no cost to me, in exchange for my honest review. All opinions are my own.