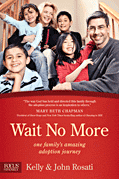 Wait No More
is about a family who decides to adopt children and the ups and downs of their experiences. Kelly & John Rosati's life changes when they take that step forward in order to bring a child into their home. Unfortunately, they do have a bad experience but the good definitely outweighs the bad.
Kelly is the vice president of Community Outreach and is co-founder of Focus on the Family's Wait No More program. She and her husband John have adopted four children from the foster care system. I believe the goal in writing their story is to encourage us to step up to the plate and get involved. There are many children who need forever homes, about 127,000 in the U.S. currently. Even if you don't feel led to adopt, you can do something to help these orphans. Click
here
to find out more.
I don't typically read nonfiction books, but I do have a heart for children and would one day like to either foster or adopt children, and this book gave me a small glimpse into what could happen so that I don't think it's always wonderful and smooth but can be very rewarding.
I received this book for free from Tyndale House. No other compensation was received or expected.