As a member of the Molly Team, a division of the
TOS Crew
, I received
Everyday Cooking
from
Everyday Homemaking
to review.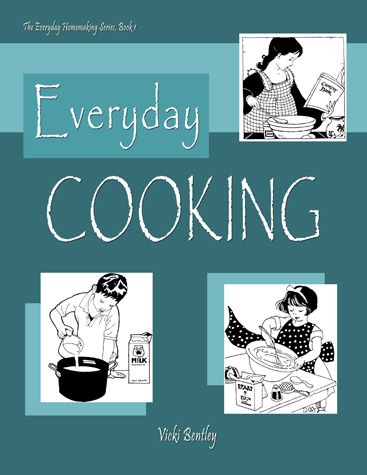 This cookbook: The Everyday Homemaking Series, Book 1, includes recipes and helpful information about some kitchen appliances such as a grain mill, mixer, and cookware, and is written by Vicki Bentley. A checklist of basic cooking skills is included for those who want to make sure their children / students can cook from scratch and understand the skills involved. In general, the author tries not to use white sugar or flour, using more whole grains and natural sweeteners when possible.
Categories include: Appetizers, Dressings, Bread, Grains, Main Dishes, Soups, Sides, Desserts, and Snacks. This cookbook also includes tips for busy families. The tips included are great ideas, some of which I've never even thought of and I feed up to 12 people on any given night and have been cooking for 20 plus years. Meal Planning / Shopping Hints is another category you'll want to look through.
One of the first recipes I made was refried beans. The recipe calls for grinding the beans in a grain mill, which I don't have, but I attempted it with my Magic Bullet. It turned out fairly well, not as good had it been ground to a finer powder. I probably could have strained out the bigger pieces and then followed the rest of the instructions for a different, better result or I could buy a grain mill. :)
One recipe that I loved was "Anna's Blue Ribbon Chocolate Truffles". To me, they tasted as good as Lindt Lindor Chocolate Truffles, one of my favorite chocolates.
I received this cookbook in a 100 page, coil-bound booklet. I wouldn't normally recommend an e-book version over a printed version but for this one, I would as the pages with pictures were too dark to see details in the hard copy. The printed version costs $17.99 and the e-book is $14.99.
Be sure to click on the banner below to read the reviews from my crewmates!
Disclaimer: As a member of the TOS Crew, I received this product, at no cost to me, in exchange for my honest review. All opinions are mine.