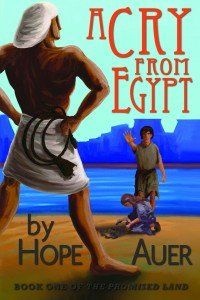 I received
A Cry From Egypt
, a book written by Hope Auer and published by
Great Waters Press
. Hope is a homeschool graduate and I was excited to read her book. Hal & Melanie Young are the publishers behind Great Waters Press and I think very highly of them.
A Cry From Egypt
is a historical fiction story giving details of what it could have been like living in Egypt during the plagues when Pharaoh wouldn't heed the advice from Moses and Aaron and let God's people go.
Marcee, my twelve year old, read the book and this is her review:
The setting of this book is in Egypt. There is a little boy whose name is Bes. Bes is taken care of by his older sister Acenith because their father is a drunk and their mother is deceased. I like him a lot because he's always nice to everyone. I like characters who are kind to others. In general, I think the book is "ok". I prefer more adventurous books.
As you can tell, I need to encourage Marcee to write more book reports as her report is a little lacking. :)
At any rate, the book is enjoyable. It is a little confusing going from one character to the next and trying to keep up with who is who, but nonetheless, an easy read for ages 8 and up and an interesting portrait of the plagues was created in my mind. The author can definitely think "outside the box."
If you'd like to order a copy, you can do so for $12.50 for an advance reader copy. Click
here
to go to their store.
Disclaimer: As a member of the TOS Crew, I received this product, at no cost to me, in exchange for my honest review. All opinions are my own.