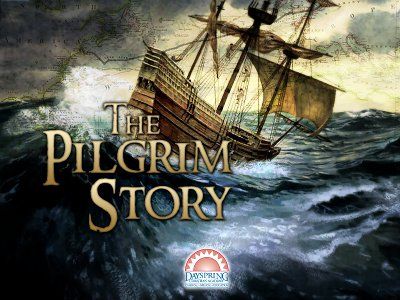 I reviewed this product,
The Pilgrim Story
by
Dayspring Christian Academy
. This is one product that I am glad we were chosen to review - especially this close to Thanksgiving!
This is a self-paced and interactive unit study on The Pilgrims. It begins with an introduction to The Pilgrim Story and concludes with a virtual trip to Plymouth, MA.
From the website:
Access to the course begins within 48 hours from purchase. You will have access to the program for six months from the date of registration. The course does not meet at a specific time. You may access it at any time that is convenient to your schedule.





The Pilgrim Story teaches children about one of the most important times in our nation's history. It is America's foundation. This self-guided, interactive history course teaches students the true history of the Pilgrims from original sources. The Principle Approach method of education is used, which holds a providential view of history. Students are taught the importance of Christian character and other biblical principles, such as self governance, hard work, and perseverance. Students also learn the biblical principles of Christian liberty.





Lessons include:

King Henry, Geneva Bible, Liberty of Conscience, Leaving Leiden, Conditions on the Mayflower, Building Christian Character, the Mayflower Compact, and much more. Students witness the providence of God in the lives of the Pilgrims and the founding of America. This interactive, self-paced course consists of five units totaling 17 lessons complete with assessments and ideas for further study. Appropriate for grades 3-6.





Activities in the course include crafts, application, live action, map-making, and much more—all designed to get students involved in the learning process. Principle Approach students are taught to think and reason from biblical principles and apply them to every area of life, so reasoning questions are also included.





Each lesson takes between 30 and 45 minutes to complete. Enrichment activities will take additional time. Students learn to manage the notebook, an important element of a Principle Approach education. Each lesson also comes with student note sheets and a vocabulary list.





This engaging online course culminates with a virtual field study to Plymouth, MA.
We sat down and watched the videos but chose to not use the printouts as Bethany preferred to watch instead of write. I will say that when it's time to fill in the blanks on the worksheets (which are downloadable in each lesson), the slide shows you precisely what to write and when. Very easy to follow along. Vocabulary words are printable as well.
Reviews and tests are included interactively. The tests can be taken as an essay or as multiple choice. We always chose multiple choice. :)
Would I purchase this for us? Probably not. Not that the content isn't good because it is, but because if I'm going to spend $99 on a product, I want lifetime access to it. That's just the frugal side of me I guess. :) However, if it's in your budget, I highly recommend you check this product out.
Disclaimer: As a member of the TOS Crew, I received access to this product, at no cost to me, in exchange for my honest review. All opinions are my own.