Apologia
is one of my favorite publishers. Having just read
Journeys of Faithfulness,
written by Sarah Clarkson and published by Apologia, I can say that this publisher has not let me down.
Journeys of Faithfulness
drew me in on Chapter 1, Part One with the story of Mary & Martha. Part Two is about Mary, Mother of Jesus; Part Three contains stories of Esther; and finally Part Four is about Ruth. These women's stories show how God can use an ordinary girl to "bring His beauty and grace to bear in this world."
Although this is geared towards young women, I, a 40-something year old woman,
thoroughly
enjoyed reading this. So maybe 40ish
is
considered "young"!? :)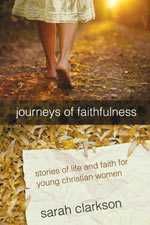 The chapters begin with a story of how the women in the stories could have responded to their circumstances and the people in their lives. Following the intriguing story, a devotional, Bible study, and journal pages follow. I
highly
recommend this book for any age and will be buying my girls their own copies so they can journal freely. The book retails for $13.
Disclaimer: As a member of the TOS Crew, I received this product, at no cost to me, in exchange for my honest review. All opinions are my own.