National Tax Training School
is an accredited correspondence school that offers various tax courses for home users. The
Federal Tax Course
teaches you how to do your (or other people's / small business) taxes. After you complete the course, you will be ready to take the required IRS Registered Tax Preparer exam. This course is for people like me...little to NO experience dealing with taxes. My husband wants me to go over the taxes each year with him but all I want to do is just sign my name and send it in. Sometimes I don't even want to do that much. :) I'm hoping that this course helps me help him. :)
I received this large binder of lessons with self tests and tests that need to be mailed in for grading. The turnaround was fairly quick for me - I think it took about a week. The company is working on a beta version of the course and I'm sure that will be great for tests but I really like having the binder in my hands to flip through the pages, highlight, and refer back to.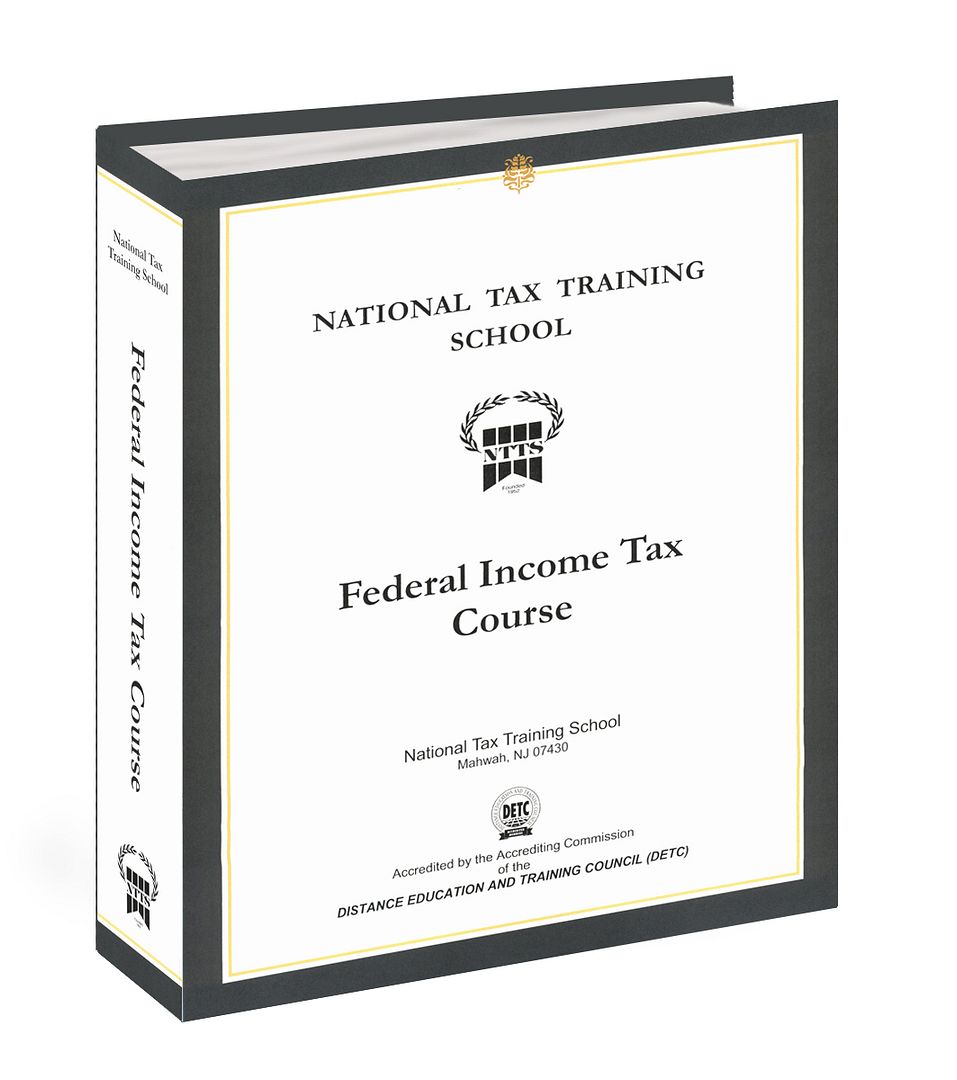 The website states:
This highly acclaimed tax course has taught thousands of people how to become successful tax professionals, specialists in preparing individual and small business tax returns.



Written in an easy, accessible style, this nationally-accredited course guides you through Federal Taxation by way of 20 easy-to-master lesson units, each requiring approximately eight hours of study. A serious student can finish the course and receive his or her certificate in as few as 8 weeks. And you'll be studying in the comfort and privacy of your own home or office. (If you need more time, the School allows you up to one year.)
The cost of the course is $795 including four full years of post-graduate support or $495 which includes two full years of post-graduate support. Payment plans are available.
My thoughts:
I love this program. It is a challenge for me but I'm going to stick with it and complete the course. It will probably take me the entire year to complete the lessons but I will do what I can with the time I have. This
is
a BIG course with
a lot
of reading and processing. I don't process very quickly with six kids and a hubby running around the house 24/7. :) One more thing, I love that its BBB rating is A+.
Disclaimer: As a member of the TOS Crew, I received this product, at no cost to me, in exchange for my honest review. All opinions are my own.