Sugar Creek Gang
is published by
Beloved Books
. The cost of Volume 1 is only $54.95 for this series compiled onto 12 CDs stored in a hard case. There are a total of 6 volumes with over 100 hours of audio adventure awaiting your listening ears. The stories on Volume 1 are: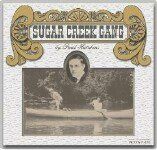 The Swamp Robber
The Killer Bear
The Winter Rescue
The Lost Campers
Chicago Adventure
The Secret Hideout
These broadcasts were originally recorded in the studios of Northwestern College Radio in St. Paul, Minnesota and come from the original books published in the United States by Moody Press. There are a total of 36 books in the series and each story is on 2 CDs, which is 72 CDs in the complete set. Each story is about 2 hours long giving you some wholesome listening enjoyment. :)
I love listening to audio stories. The narrator really pulls you in and you can imagine you are there seeing what he is seeing. My kids aren't as keen on just sitting and listening so we play the cd in my car. By the end of a chapter, they were listening intently. :)
If you'd like to listen to one of the stories for free, click
here
. There's also a discount code on that page along with more freebies so check it out.
Disclaimer: As a member of the TOS Crew, I received this product, at no cost to me, in exchange for my honest review. All opinions are my own.