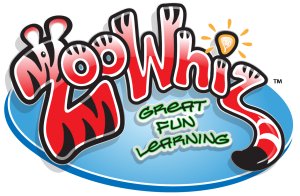 From
ZooWhiz
, I received a
Premium Subscription
for 12 months for my daughter, Bethany. This online program is for ages 5-15 and they offer a Free Keeper Account and a Premium Account. Some Premium features are still being developed and haven't been released yet. Parents, teachers, and kids are welcome to sign up.
ZooWhiz teaches math, reading, word skills, punctuation, and grammar in a fun, interactive setting.
ZooWhiz has LOTS of animals: grassland, ocean, tundra & polar, desert, mountain, river & lake, domestic, dinosaur, rainforest, mythical, forest & woodland, marsh & swamp, forest, and extinct. They cost from 100 - 5,000 coins. To earn coins, you visit "Learn & Earn" and you choose from: Math, Words, or Reading and following the directions, correct answers give 20 coins. If you answer incorrect, you get to try again. If you get it right the second time, you get +10 coins. However, if you miss it again, it takes away 10 points from your total. After the second wrong answer, the program shows you the right answer. The reading is a bit difficult as the sounds that are matched with words aren't how we pronounce them. For instance, given the words "fake, play, marry, and flank", you put the ones with the long a in the left column and the ones with the short a in the right. The correct answer places "fake & play" in the left and "marry & flank" in the right. I would put "flank" in the column with fake and play.
If you visit the arcade, the first time the games are free. Afterwards, they cost you valuable coins. Milestones shows you your subject results in each area. (Math, Words, Reading)
As you are playing, ads do pop up. I 100% do NOT like this. :/ I prefer for the kids to not be tempted to click on advertising links as anyone who has been on the internet for any length of times knows that some popups can ruin your computer.
If the work your child is doing is too advanced or too below level, you can change the child's age range in the parent account. They offer a 14 day money back guarantee. As of this writing, they are offering at 50% discount on the Premium fee. I believe the cost right now is $14.95.
Bethany said,
It's really fun. Everyday when you log in you receive 100 spending coins. These coins can be used at a shop to buy animals, but they're not cheap. There are mythical creatures like a pegasus, unicorn, and a phoenix, to name a few. Ocean animals are also available. After you get some animals you go to the other side of the shop which has your animals. Once you buy the animal you get to learn about them. The shop is in the biodome.
Disclaimer: As a member of the TOS Crew, I received a premium subscription, at no cost to me, in exchange for my honest review. All opinions are my own.